Progressive staking plans comparison
Progressive methods come from the casino's strategy known as martingale. You can find a very interesting article explaining the martingale concept here.
As you should know, Martingale is a well-known progressive betting plan which aggressively increases amounts after losses in an attempt to recover them. This kind of loss recovery is not recommended at all. However, we can see many tipsters recommending martingales such as increasing stakes or other systems, which will surely go bankrupt.
In this article, we propose some progressive methods with a key aspect: a stop-loss condition. In our dashboard, we show realtime results of all our staking plans, including the progressive ones. In particular, we will analyse the following staking plans: Edge6, Fibo7, Fibo6+6 and Fibo6, all of them explained in our section staking plans.
We will start with a bank of 3,000€ and set a unit value as a percentage from our current bank, which will change over time according to our bank. This percentage depends on the staking plan, so we will provide the optimum one in the chart shown below. Indeed, we have set a limit of 400€ per bet, in case that the unit value exceeds that value.
Finally, we created a chart with the conditions previously explained, which is shown here: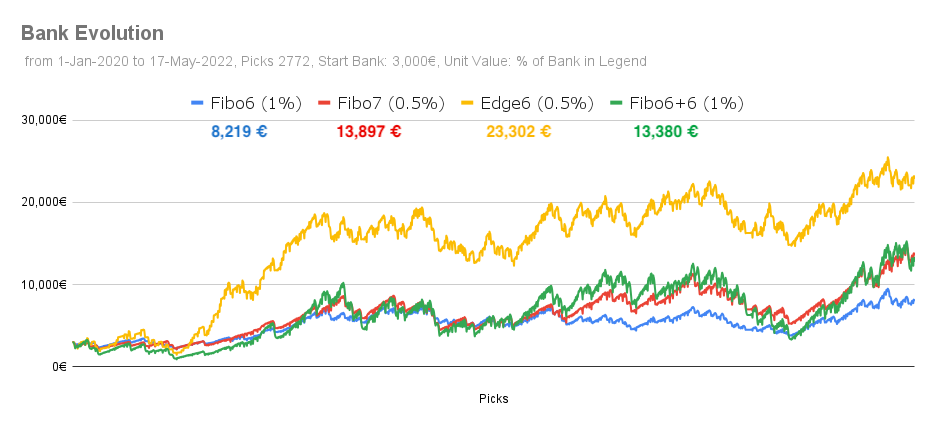 We can notice in the chart some important aspects, such as the optimum percentage to calculate your unit value, which varies according to the selected staking plan, and how the graph is evolving over time, i.e., we have important drops in Edge6 but a more linear curve in Fibo6.
Finally, we should ask yourself if you are strong enough to hold your position when a big drop occurs in Edge6 or if you want to sacrifice some profits but have a more calm growth.
Do you want to start getting profits from draws? Just join us: 1xdraw.com.